Trapper's Crossing townhomes are nestled in a small valley just East of River Run Village in Keystone. While it's not far from the ski lifts, it feels more like a private cabin off in the woods than a town home. With views of Settlers Creek Gulch and impressive high peaks nearby, you'll know you're right at home in Keystone Colorado. Just 100 yards away is a free shuttle that can have you riding the lifts within minutes. You'll love staying at the secluded town homes in the woods. The private town houses in Trapper's Crossing are some of the nicest lodging accommodations in all of Keystone Ski Resort.
Available Trappers Crossing Properties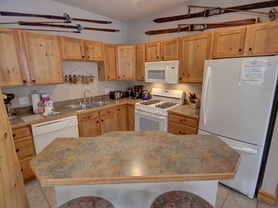 Trappers Crossing Features
Snake River – The nearby river is a unique feature at the Trapper's Crossing Private Condos. Stroll down to the peaceful scene at Snake River. If you're a fisherman, you will love the secret "holes" where brook trout hang out. Just another reason that Trappers Crossing is the perfect location for your Keystone vacation!
Bike path – The bike path that leads all the way down the Keystone Valley is located right outside your front door. The path goes to Lake Dillon and eventually to Breckenridge. Perfect for an early morning jog or a winter wonderland walk.
Shuttle Stop – The shuttle stop is 100 yards away from Trappers Crossing and offers regular service throughout the year to any location in Keystone. Catch a transfer in River Run Base Area and ride the Summit Stage shuttle to Arapahoe Basin or Breckenridge if you like. No need to rent a car. Keystone's In Resort Shuttle provides "on demand" FREE service. Simply call and within 15-20 minutes, a shuttle will be at your door at Trappers Crossing. No need to drive to the ski slopes, River Run Village or surrounding locations. Shuttles have ski carriers for a quick pick up and drop off.
Outdoor Hot Tub – Located less than 50 yards from the front door of Trappers Crossing is a clubhouse that features locker rooms, showers, and a private outdoor hot tub, nestled in a secluded area surrounded by trees! Towels are supplied. There are locker rooms so that you won't have to walk back to your condo in a wet swimsuit.
Mountain Views – Trapper's Crossing condominiums offer stunning views in all directions Look to the East for a sweeping view of Argentine Peak and the Continental Divide. Look to the West and see glimpses of the slopes at River Run Village in Keystone.
Off the Beaten Path – Located about a mile East from River Run Village in Keystone, Trappers Crossing condos feel like it is off the beaten path, and you'll still have convenient access to shops, restaurants, and all the excitement of River Run Village. Enjoy the solitude while being just a short walk or shuttle ride from everything at Keystone Ski Resort. Trapper's Crossing is located in East Keystone, a mile east of the ski lifts at Keystone Resort. If a quiet, peaceful setting is what you desire during your Colorado vacation, this is as good as it gets!
Take the Shuttle Anywhere in Keystone – Not only can you get right to the ski slopes, but the Keystone Resort shuttle also services you all way to Lakeside Village, Keystone Ice Rink (take the family ice skating!), Mountain House Base Area, and anywhere else in Keystone you want to go!
Trappers Crossing Building Pictures